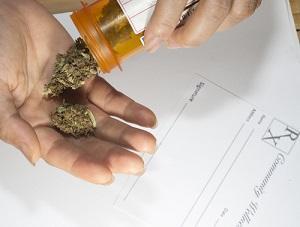 Opioid abuse has become a major public health crisis in recent decades. Many individuals become addicted to opioids after being prescribed drugs such as codeine, hydrocodone, OxyContin, or Percocet to manage extreme pain. Opioids are extremely addictive, and when a person continually takes these drugs, they eventually need more and more to feel the same pain-relieving effects. Many people become addicted to pain pills and then end up turning to heroin or fentanyl. Each day, an estimated 155 people lose their lives to opioid overdose. Some experts believe that medical cannabis could be the key to reducing the staggering number of opioid overdose deaths.
Studies Compared States with Legalized Medical Marijuana in States Without Legalized Marijuana
Recently, two studies regarding the medicinal benefits of cannabis were published in the journal JAMA Internal Medicine. Researchers compared opioid prescription frequency for states which have allowed the legal use of marijuana to those states which have not adopted legalized cannabis. One study analyzed opioid prescriptions covered by Medicare Part D and the other considered opioid prescriptions covered by Medicaid.
Through the investigation, it was determined that states which allow medical cannabis had 2.21 million fewer daily doses of opioids prescribed than states without legalized medicinal marijuana. Furthermore, states which allow citizens to use marijuana for medical purposes have 5.88% fewer opioid prescriptions under Medicaid than states which have not legalized medicinal use. David Bradford, researcher, and professor of public administration and policy at the University of Georgia describes the significance of these comparisons. "This study adds one more brick in the wall in the argument that cannabis clearly has medical applications," he explains.
Low-Level Possession of Marijuana in Illinois Is Decriminalized
Medical marijuana is legal in Illinois for those who are properly registered with the state, but possession for any other reason is against the law. Holding less than 10 grams of marijuana is only a civil violation which incurs a maximum fine of $200. Possession of a larger amount of marijuana can be considered a felony offense which is punishable by several years in jail. The sale, trafficking, or cultivation of marijuana in Illinois is punishable by even more severe consequences.
If You Have Been Charged with a Drug-Related Criminal Offense, You Need an Attorney
Those found guilty of drug charges can face serious punitive consequences including imprisonment. If you are an Illinois resident who has been arrested for a drug-related crime, an effective defense strategy can help keep you out of jail. To speak with an experienced Kane County drug crimes attorney from The The Law Office of Brian J. Mirandola, call 847-488-0889 today.
Sources:
https://www.drugabuse.gov/related-topics/trends-statistics/overdose-death-rates
https://www.cnn.com/2018/04/02/health/medical-cannabis-law-opioid-prescription-study/index.html
http://www.ilga.gov/legislation/ilcs/fulltext.asp?DocName=072005500K4
Last modified on