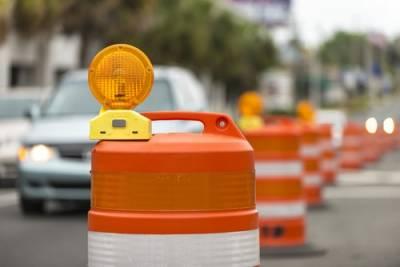 The road is dangerous enough on its own, but when driving through a construction zone, there are many other obstacles to be aware of. Therefore, instead of speeding up, drivers are expected to slow down and be extra alert in case of holes in the road, barricades, and workers doing their jobs.
Speeding within a construction zone is a traffic violation and can be considered reckless driving. This is because a driver who is traveling too fast through a work zone is putting themselves, other drivers, and construction workers at risk of injury or death.
Punishments can be as simple as a traffic ticket for speeding in a construction zone or as serious as facing felony reckless homicide penalties.
Rules of Construction Zones
The Illinois Department of Transportation reported that from 2010-14 there were 4,500 motor vehicle crashes within construction zones. Of that number, 1,100 people were injured and 27 were killed.
The two most common reasons for these collisions are distracted drivers and speeding. Whether there are workers present or not, a car can be pulled over for speeding and be issued a ticket. An appearance in court is mandatory after a violation as well as paying a fine:
$375 for first offenders
$1,000 for second and subsequent offenders
If a driver commits two speeding offenses within a construction zone in the span of two years, the Illinois Secretary of State will suspend the driver's license for a period of 90 days.
Enforcement in Construction Zones
Of course, there can be police officers posted at construction zones to catch people speeding. There are also photo speed enforcement devices that can be set up in construction zones when no police officers are physically present, but workers are.
These devices capture images of the speeding vehicle including license plates and the rate of speed the car is traveling. Then, authorities have 14 days to mail the ticket or else the driver cannot be charged for the crime.
Severe Results from Speeding in Construction Zones
If a driver is traveling too fast through a work zone, they are less likely to see workers who are doing their jobs. Often, construction zones are full of large equipment that is hard to see around and so motorists should slow down in case a worker suddenly appears from behind a large object.
If a worker is hit and killed by a motorist, that driver can face a Class 2 felony charge of reckless homicide. This punishment is a prison term of 3-14 years.
Contact an Elgin, IL Traffic Violation Attorney
Being issued a speeding ticket within a construction zone does not mean the driver will automatically have to pay the fine. Drivers can appear in court with a knowledgeable attorney who can build a defense. The lawyers of the Law Office of Brian J. Mirandola can make sure the ticket was not issued unlawfully or that the driver's right were being violated in any way during the traffic stop. To schedule an appointment with a Kane County traffic violations lawyer, call our office at 847-488-0889.
Source:
http://www.idot.illinois.gov/assets/uploads/files/travel-information/pamphlets-&-brochures/workzone%20il%20fact%20sheet.pdf
Last modified on