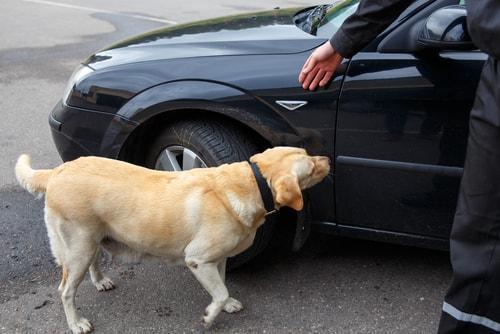 As per the Fourth Amendment to the United States Constitution, police cannot search a person's private residence without a search warrant issued by a judge. So, if police believe you have illegal items in your home, that suspicion alone is usually not enough to merit a legal search. However, the laws which protect citizens' privacy are quite different when it comes to motor vehicles. Because we operate vehicles on public roads, police have much more freedom when it comes to searching a person's car or truck. If police have searched your vehicle and discovered marijuana, amphetamines, opioids, or other illegal drugs, you may be facing harsh criminal consequences.
When Can Police Legally Search a Vehicle?
Although police have more authority to search motor vehicles than homes, they are still required to follow certain rules regarding vehicle searches. An officer cannot stop and search a vehicle without a reasonable cause for doing so.
There are five main ways a police officer is authorized to search someone's vehicle. Firstly, if the driver of the vehicle gives the officer consent, the officer may search the vehicle. It is important to always politely decline police vehicle searches if given the chance. A search is also permitted If the officer has probable cause to believe evidence of criminal activity such as stolen items, drugs, or illegal weapons is in the car. Furthermore, police may search a car if they believe doing so is necessary for their own protection. For example, if police have stopped a vehicle but worry the drivers are armed and dangerous, they may be permitted to search the car for weapons. Police may also search a vehicle after a person is arrested. Lastly, police can search a vehicle if they have a search warrant.
Unwarranted Searches Can Result in Dropped Charges
If police searched your vehicle and discovered illegal drugs in it, make sure to discuss the legality of the search with a qualified criminal attorney. If it can be demonstrated that police did not have a valid reason to search the car, truck, motorcycle, or other vehicle, the evidence obtained from that search can be thrown out. If the evidence against you is dismissed, the criminal charges will most likely be dropped.
Do Not Face Drug Charges Alone
Illinois law says that those found transporting drugs in their car may face fines, probation, loss of driving privileges, and jail time. Possession of small amounts of marijuana has been decriminalized in Illinois, but possessing more than 10 grams of cannabis or having drugs like heroin, cocaine, morphine, amphetamine, and barbituric acid/salts can result in much more severe criminal penalties.
If you have been arrested on drug charges, speak to an experienced Kane County criminal defense attorney as soon as possible. Call 847-488-0889 today to schedule your free initial consultation at The The Law Office of Brian J. Mirandola.
Sources:
http://www.ilga.gov/legislation/ilcs/ilcs5.asp?ActID=1941&ChapterID=53
http://www.ilga.gov/legislation/ilcs/ilcs3.asp?ActID=1937&ChapterID=53
Last modified on