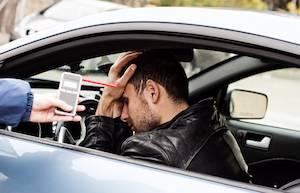 Here in the state of Illinois, law enforcement is constantly on the lookout for drunk drivers. According to the Illinois Secretary of State's office, more than 27,000 people were arrested on DUI charges in 2017 alone. A DUI conviction can come with serious legal ramifications and should not be taken lightly.
Once you have been pulled over by a police officer, it is important to understand how your actions can impact your case. In the event of an arrest, contact an experienced DUI lawyer as soon as possible.
Illinois DUI Stops
If you are driving, and you see a law enforcement officer turn their lights on behind you, it is important to follow basic safety procedures. Do not stop in the middle of the road, simply slow your vehicle and find a safe place to pull over. Do not pull over on a bridge, next to a guardrail, or on a sharp curve. Once you have come to a complete stop in a safe location, it is important to remain calm.
As the officer approaches your vehicle, keep both hands on the steering wheel and remain seated. If the officer requests your license and registration, comply as requested. If the officer has reason to suspect you are driving while under the influence of alcohol or drugs, they will likely request a field sobriety test.
In the state of Illinois, implied consent laws state you will agree to blood-alcohol content (BAC) testing. Despite the implied consent, it is not a crime to refuse chemical testing. That said, if you decline, you will face an automatic 12-month license suspension.
If you submit to testing and the officer deems you are driving under the influence, you will be taken to the police station and charged with a DUI.
License Suspension and Revocation
Once you have been charged, it is important to seek skilled legal guidance. A first-time DUI conviction constitutes a Class A misdemeanor, which can result in up to one year in jail and fines of $2,500. A first-time DUI offender also receives a 12-month driver's license suspension. Subsequent DUI convictions come with harsher punishments. A second DUI conviction results in a five-year suspension. If you are convicted of a third DUI, you may face a license revocation period of 10 years, while a fourth conviction constitutes a lifetime revocation of driving privileges.
Contact an Elgin, IL DUI Lawyer
With years of experience serving the state of Illinois, Attorney Brian J. Mirandola is prepared to aggressively represent you to keep a DUI conviction off your record and preserve your ability to drive as needed. Do not wait any longer. It is critical to work with a skilled legal team immediately. To schedule a free consultation with a knowledgeable Kane County criminal defense attorney, call us today at 847-488-0889.
Sources
https://www.cyberdriveillinois.com/publications/pdf_publications/dsd_a118.pdf
Last modified on