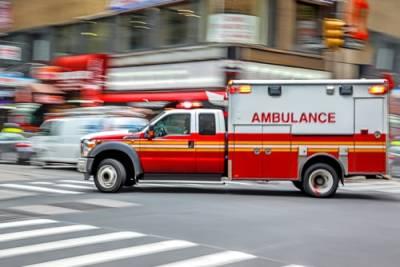 The state of Illinois observes a special law when it comes to stopping for an ambulance or any other emergency vehicle. Scott's Law - also known as the "Move Over" Law - was created in memorial of Scott Gillen, a Chicago firefighter who was struck and killed while assisting victims in a crash. The drunk driver of the vehicle that killed Gillen did not leave enough room when traveling around the accident. If a driver does not obey Scott's Law or give room to a moving emergency vehicle - such as a police car or an ambulance - they are committing a traffic violation punishable by fines and even prison time.
Why It Is Important to Move Over for Ambulances
If you see an ambulance driving down the road, more times than not they are en route to saving someone else's life. If their lights are flashing, it is a real emergency and those on the road are required by law to slowly drive as close to the right side of the road as possible. This will give the emergency vehicle more room and a more clear path to their destination.
Illinois law states that other drivers will not only drive on the right side of the road but will also stop their vehicle to allow the ambulance to safely pass. The only exception to this rule is if a police officer instructs the drivers to continue moving at a safe speed.
At the same time, cars are not permitted to block an intersection. They must still obey the right-of-way rules so as not to cause an accident or collide with the emergency vehicle.
Punishments for Violations
The least severe punishment occurs if a person is pulled over for not yielding to an ambulance. As of Jan. 1, 2020, a driver who violates Scott's Law will be fined no less than $250 and no more than $10,000. Other punishments result in more severe cases:
A second offense results in a minimum $750 fine.
If any damage is done to another person's property during the violation, the offender will lose his or her driving privileges for a period of between 90 days and one year.
If a person is injured as a result of the violation, the offender will lose his or her driving privileges for a period between 180 days and two years.
If a person is killed as a result of the violation, the offender will lose his or her driving privileges for two full years and may be charged with a felony.
Contact an Elgin, IL Traffic Violations Attorney
Traffic violations are taken seriously in the state of Illinois. If you or someone you know is facing traffic punishments after not yielding to an ambulance, hire a lawyer from the Law Offices of Brian J. Mirandola who can represent you and make sure your rights are protected. To schedule a free consultation with a Kane County traffic ticket defense lawyer, call us today at 847-488-0889.
Sources:
http://www.ilga.gov/legislation/ilcs/fulltext.asp?DocName=062500050K11-907
https://www.cyberdriveillinois.com/publications/pdf_publications/dsd_a207.pdf
Last modified on