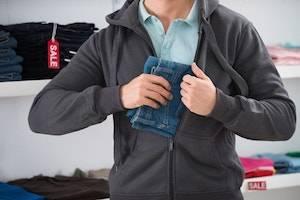 Every year, retailers throughout the United States lose billions of dollars due to shoplifting. Because of this, store security and law enforcement are increasingly on the lookout for shoplifters. According to the National Association for Shoplifting Prevention (NASP), approximately 1 in 11 Americans will commit retail theft at some point in their lifetime. If you have been charged with shoplifting, you need to fully understand the implications of a conviction and seek skilled legal representation as soon as possible.
Retail Theft Charges in Illinois
Here in the state of Illinois, shoplifting is defined as the act of taking, possessing, or carrying away a retail item without paying the marked retail value. It is important to note, retail theft is not limited to the act of physically stealing an item. Illinois law states a person can be charged with shoplifting if they pretend to own an item, utilize an anti-theft detection device, or alter the price tag of a retail good. The ramifications of a shoplifting conviction can be severe.
If a person steals merchandise under $300 in value, it is classified as a Class A misdemeanor, which carries a maximum fine of $2,500 and up to one year in jail. Any subsequent conviction may result in a Class 4 felony. If a person is charged with retail theft of an item or items valued at over $300, the punishment can be much more severe. If convicted of that Class 3 felony, you could face up to $25,000 in fines and three years of incarceration.
Due to the severe legal punishment of retail theft, it is important to speak with an experienced criminal defense team. Some of the most common retail theft defenses include the lack of intent, entrapment, or impairment due to intoxication or mental disability.
Contact an Elgin, IL Shoplifting Lawyer
A retail theft conviction can come with life-changing ramifications, especially for minors, who make up 25 percent of all convicted shoplifters. With years of successfully defending Illinois clients, Attorney Brian J. Mirandola is prepared to aggressively fight to minimize the potential damage of a shoplifting charge. If you or a loved one are charged with shoplifting, it is critically important to secure adept legal guidance. To schedule a free consultation with a Kane County criminal defense attorney, contact our team today, at 847-488-0889.
Sources:
http://www.shopliftingprevention.org/what-we-do/learning-resource-center/statistics/
http://www.ilga.gov/legislation/ilcs/ilcs4.asp?DocName=072000050HArt%2E+16&ActID=1876&ChapterID=53&SeqStart=36200000&SeqEnd=40800000
Last modified on