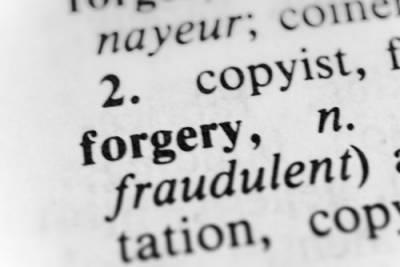 In Illinois, in its simplest terms, forgery can be understood as the knowing and willful falsification of signatures, documents, or objects. Once such items are falsified, the charges can be compounded by the propagation of these false items or other defrauding activities that lead to another individual or organization being misrepresented or losing something valuable, money or otherwise. Forgery and other deceptive practices are quite common, mainly because they can run the gamut, comprising a wide variety of defrauding actions.
Common Acts of Forgery and Illegal Deception
Among the many examples of forgery and other deceptive practices in Illinois are:
Forged checks—If you sign someone else's name on their check without their knowledge or approval, you are committing fraud.

Faked mortgage documentation—Whether it be manipulating the data in your mortgage documents or faking your own personal information in a mortgage loan application, falsifying any of this serious documentation can result in severe legal penalties.

Completing a credit card application for someone else without their knowledge—Pretending to be someone else and completing a credit card application on their behalf is illegal. You are misrepresenting them, possibly lowering their credit score and opening the door to identity theft.

Sending checks from closed accounts—Not all bounced checks are created equal; some are from closed accounts. This is fraudulent activity when you know the account is closed but you still write the check.

Misreporting your data on loan or other major financial applications—This includes claiming a greater income than you actually make, lying about employment or tax obligations, or lying about your ownership of property. Whatever the case may be, lying on major financial applications is deceptive and against the law.

Art forgery—This is what many people think of when they think of forgery due to representation in popular culture. Attempting to pass off a falsified art piece as the work of a famous or popular artist is against the law.

Prescription forgery—Drug addicts and patients with drug-seeking behavior might try to alter the prescriptions they are given by their doctors to get higher doses or more refills of painkillers and other legal drugs. They might even make fraudulent copies of blank prescription sheets and distribute them. Sometimes they might not even forge a signature, they merely manipulate what is there on the page and keep the same signature. This is still a forgery, though, and it is illegal.

Faked forms of government identification—From a driver's license to a passport, forms of identification have been falsified for years. This does not just include teenagers trying to drink before the age of 21, either. These faked documents can also affect immigration, international travel, and other important legal matters.
Contact a Kane County Forgery Defense Attorney
Defrauding anyone—a business or a person—through forgery and other deceptive practices is a crime. If you are facing charges of forgery or fraud, consider retaining representation from a knowledgeable and skilled Aurora IL deceptive practices defense lawyer. Call the team at the Law Offices of Brian J. Mirandola at 847-488-0889 for a free consultation.
Sources:
https://www.ilga.gov/legislation/ilcs/fulltext.asp?DocName=072000050K17-3
https://www.sciencedirect.com/science/article/pii/S221256711501206X/pdf?md5=ed3d56589b7831d0c3cc80cd0f6312db&pid=1-s2.0-S221256711501206X-main.pdf
https://www.thoughtco.com/the-crime-of-forgery-970864
Last modified on