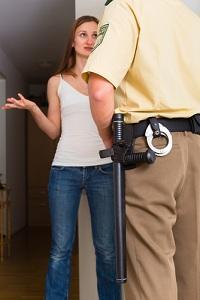 When a defendant is charged with a probation violation, it means he or she has failed to meet some requirement or condition of a criminal sentence already imposed upon them. The state can bring a Petition to Revoke Probation in order to have the offender's probation officially revoked by the court and have the offender incarcerated as a result of the violation. These charges are especially serious since they inherently involve the commission of an earlier crime for which the defendant was either found guilty or pleaded guilty and sentenced.
What to Expect Upon Violation of Probation
If the prosecutor files a Petition to Revoke Probation, the offender has a right to deny the charges and have a hearing, at which the court will hear evidence tending to prove a violation occurred. A violation can result from any number of acts, including commission of a new crime, failure to report to a probation officer, and testing positive for drugs or alcohol when they have been expressly prohibited. The offender is entitled to be represented by legal counsel at the hearing on the state's motion, in addition to having legal representation at the sentencing phase if the court finds they are, in fact, in violation of the terms and conditions of their probation or supervisory portion of their sentence.
The consequences for violating probation vary greatly depending on a number of factors, including, but not limited to, the offender's prior criminal history, the severity of the violation, any prior history of violations while serving the current sentence, and other relevant circumstances that may have been at play surrounding the violation. A sentence imposed as a result of a probation violation could include incarceration, an extended period of supervision, and imposition of fines, among other potential consequences.
Criminal Defense Attorney
If you or someone you know is facing a probation violation, it is best to contact an experienced criminal defense attorney who can listen to the facts of your case and advise you of your rights and expectations in light of your particular circumstances. A knowledgeable defense attorney will not only be able to advise clients about their legal rights in connection with a probation violation, but can also let them know with more specificity what consequences they may be facing as a result of their violation in light of their personal and criminal history.
Kane County criminal attorney Brian J. Mirandola has experience representing clients who are charged with probation violations. Call 847-488-0889 to schedule a free consultation to discuss your case. The Law Office of Brian J. Mirandola is located in Elgin, Illinois.
Last modified on