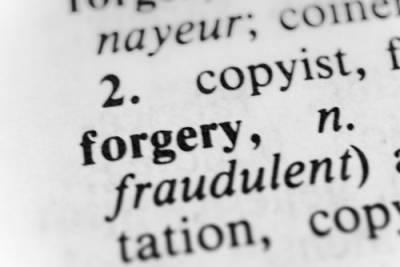 There are several types of deceptive practices that can be punishable as felony charges in Illinois. The most common deception that goes on today is forgery which is defined by Illinois law as:
Making or altering documents to defraud another person.
Issuing or delivering altered documents.
Possessing with intent to deliver altered documents.
Unlawful usage of another person's signature.
Unlawful usage of another person's PIN number as an electronic signature.
Forgery is a felony offense in most situations, but the worst punishment of this type of conviction is the damage that it does to one's personal reputation.
If you are convicted of a forgery charge, others will change the way they see you and question your morals. People will begin to wonder when you are lying to manipulate a situation or if you are trying to harm another person for selfish reasons.
What Are the Legal Ramifications to Forgery Charges?
A forgery charge is only punishable as a misdemeanor - Class A misdemeanor - when the document being altered is an academic degree or coin. The misdemeanor punishment is less than one year in prison, probation, and a fine of up to $2,500.
All other forgery violations are considered felonies:
Most violations are considered Class 3 felonies and are punishable by two to five years in prison, periodic imprisonment for up to 18 months, probation or conditional discharge for up to 30 months, a fine of up to $25,000 for each offense, and/or restitution.
A Class 4 felony is charged when a forged document has only one Universal Price Code Label. The punishment for this type of felony is the same as a Class 3 felony except the jail time is reduced to 1-3 years in prison.
How to Defend Against Forgery Charges
The first step to defend against forgery charges is to hire a knowledgeable attorney who can build a strong case on your behalf. They will also be able to dig into the prosecution's case and discover if any of your rights were compromised in order to obtain incriminating evidence.
If the charges cannot be dismissed, the defense can argue that there was no intent to defraud or deceive the alleged victim. Other defenses include:
Mistake of fact.
Duress or compulsion.
Infancy - for alleged forgers under the age of 13.
And insanity.
Previously mentioned, forgery does include academic degrees. However, the defense for altering this type of document can be avoided if the paper is clearly marked as "for novelty purposes only" according to Illinois law.
Contact an Elgin, IL Defense Attorney
If you or someone you know is facing felony forgery charges, a lawyer from the Law Offices of Brian J. Mirandola can help build a defensive strategy to protect you from a negative outcome. To schedule a free consultation with a Kane County forgery defense lawyer, call 847-488-0889.
Sources:
http://www.ilga.gov/legislation/ilcs/fulltext.asp?DocName=072000050K17-3
http://www.ilga.gov/legislation/ilcs/fulltext.asp?DocName=072000050K17-1
Last modified on