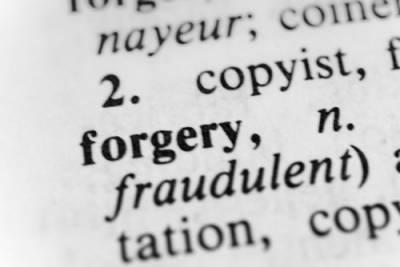 Illinois has two separate laws covering forgery and identity theft, however, they are both deceptive practices that are taken seriously due to the harm it causes a victim. Forgery is a crime that could lead to identity theft because it starts with using someone else's signature to steal money, goods, or personal information. Both crimes are felony offenses, but for identity theft, punishments become more severe depending on the harm done to a victim.
What Is the Difference?
Illinois law says that someone commits forgery when they do any of the following with the intent to defraud a victim:
Make or alter a document that has false information
Deliver false documents with the knowledge that the information is false
Possession with intent to deliver false documents
Obtain, possess, or sell another person's personal information unlawfully
Use an electronic device to create a false signature for another person
Writing the signature of another person to cash a check or purchase goods
These actions touch the shallow end of identity theft because once a person has the personal information of another, they have the tools they need to commit the more hurtful crime. Forgery is a Class 3 felony most of the time; charges are elevated to a Class 4 felony if a Universal Price Code Label is forged.
Identity theft is covered in greater detail by Illinois law. The crime is defined as someone using the personal and financial information of another in order to obtain money, goods, property, or anything else of value.
Once the alleged thief has the victim's personal information, they commit identity theft by:
Using another's information to commit another type of felony
Selling or distributing another person's information to others who will commit another felony crime
Using another's information even though they know the information is stolen
Using another's information to portray themselves as the victim in order to commit a crime or obtain items of value
Using another's information in order to gain access to more personal of financial information
Aggravated identity theft: stealing personal or financial information from a person over the age of 60 years
Like forgery, identity theft is a felony offense. Depending on the severity of the crime - the monetary value of goods stolen and the amount of previous identity theft convictions against a thief - the charges can range from Class 4 to Class X felonies.
Contact an Elgin, IL Criminal Defense Lawyer
Any deceptive crime can be harmful to a victim and can change the life of an alleged thief not only through a criminal record, but also their reputation in the community. If you are being accused of identity theft, hire a lawyer from the Law Offices of Brian J. Mirandola. Our lawyers have experience making sure a client's rights are not being violated during a litigation. To schedule a free consultation with a Kane County criminal defense lawyer, call our office at 847-488-0889.
Sources:
http://www.ilga.gov/legislation/ilcs/fulltext.asp?DocName=072000050K17-3
http://www.ilga.gov/legislation/ilcs/fulltext.asp?DocName=072000050K16-30
Last modified on