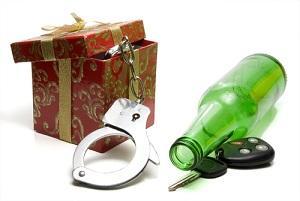 A new service hit the market just in time for last year&s holiday season, aimed at reducing the number of drunk drivers on the road. As the holidays roll back around, the app, BeMyDD, continues to allow drunken party revelers to contact a team professional, fully-insured drivers who will drive a person and his or her car home for a mere $25, plus mileage.
Safety and Technology
The app, which first launched in Cleveland in 2010, was rolled out in Chicago at the beginning of December 2014. It also allows users to hire a driver for the entire evening, with a two-hour minimum time commitment. While there are several other car services vying for the attention of people who are unable to drive home, BeMyDD is different because it allows for people to use their own vehicles, rather than relying on an unfamiliar car. A spokesperson for the app said in a press release that, "between unpredictable prices and unprofessional drivers, the working professional and luxury set would rather rent a professional driver to drive their own cars for an important night on the town."
Major Impact of DUI
It is a novel idea, and one likely to take hold in a city such as Chicago. Around Illinois, there were than 36,000 DUI arrests were recorded in 2013. More than 90 percent of those arrested lost their driving privileges, at least temporarily, and more than 85 percent of people arrested are first-time offenders. Thirty-five percent of all crash fatalities were those sustained in an alcohol-related crash.
The holiday availability of BeMyDD is especially appropriate, if the developers are attempting to court would-be drunk drivers. Drunk driving statistics traditionally spike during the holiday season—the percentage of crash fatalities involving alcohol increases to more than 40 percent during Christmas and New Year's. In Chicago, where an average of 10 people are pulled over for DUI every night, that is a lot of drunk drivers on the road during the holiday season.
Contact a Lawyer
If you are arrested or accused of driving under the influence or any other DUI-related charge, the most important step is to seek legal counsel. Do not go through it alone—speaking with a qualified legal professional can help you to mitigate the effects of your case and save you time and money. Contact an experienced Elgin criminal defense attorney at the The Law Office of Brian J. Mirandola today.
Sources:
http://www.dnainfo.com/chicago/20141203/logan-square/too-drunk-drive-bemydd-will-drive-you-your-car-home
https://www.cyberdriveillinois.com/publications/pdf_publications/dsd_a118.pdf
Last modified on