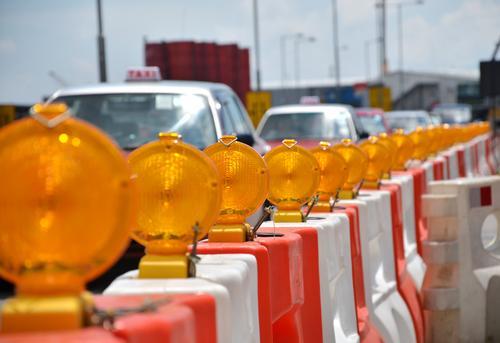 As Illinois emerges from yet another winter that felt like it would never end, road improvement projects are beginning in earnest throughout the state. Resurfacing, road repairs, and in some cases, full roadway or bridge replacement mean that the orange barrels, cones, and signs will once again be common sights for drivers. While traffic slowdowns and congestion may be a source of annoyance for many, safe driving through construction zones is not only required by law, but necessary for the safety of those working on the roads.
Road construction zones can be extremely confusing, with numerous signs and instructions, large vehicles and construction equipment, and large numbers of workers all in the immediate area of cars and trucks often driving at highway speeds. According to Illinois highway authorities, more than 4,300 accidents occur in construction zones on state roads every year, killing dozens and injuring hundreds. A number of those killed or hurt were roadway workers going about their daily jobs.
The Illinois Tollway offers reminders to drivers regarding work zone safety:
Pay Attention
Be aware of changing traffic patterns and construction zone notifications. When driving through, understand that workers may not always be immediately visible, despite the bright safety colors they wear. In addition to being vigilant, put down cell phones or mobile devices. Handheld use of phones is illegal in Illinois anyway, and particularly dangerous in a work zone.
Safely Yield to Construction and Emergency Vehicles
In addition to passenger cars and trucks, construction equipment and emergency vehicles are very often present in work zones. They can stop suddenly or need to cross the flow of traffic, and drivers are advised to maintain a safe following distance and to allow appropriate clearance. Reduce driving speed and, if possible, change lanes, to avoid any potential interference.
Obey the Speed Limit at All Times
Speed limits are reduced in construction zones for a number of reasons, all of which can be summarized in a single word—safety. In addition to the more obvious activity in a construction zone, traffic lanes are often much narrower than standard highway lanes, and driving patterns can change quickly. Even an apparently inactive work zone should be approached with caution, while properly adhering to posted speed limits.
Penalties Can Be Severe
Speeding in a construction zone is a serious offense, and the consequences can be rather significant. A first-time offender is subject to a $375 fine, while subsequent offenses carry fines of up to $1,000 plus potential license suspensions. Commercial drivers may also find their livelihood at risk, as the loss of a CDL may be possible. The penalties for hitting a road worker in a construction zone can include fines of up $10,000 and up to 14 years in prison.
If you have been issued a citation for speeding in a construction zone, a qualified lawyer can help you understand your options. Contact an experienced criminal defense attorney in Kane County today at The The Law Office of Brian J. Mirandola. We will review your case and work with you to minimize the impact to your future.
Last modified on