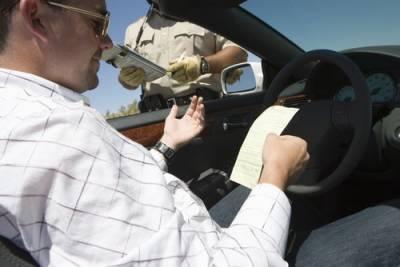 In Illinois, driver's licenses are issued and managed by the Office of the Secretary of State. The law gives the Secretary's office to impose suspensions and revocations for offenses such as driving under the influence and refusing a blood-alcohol content (BAC) test incident to a DUI arrest. A suspension may apply in other situations as well, including the use of a fake ID, underage drinking, and failing to pay court-ordered child support. However, even the most seemingly basic traffic violations could result in the suspension of your license, depending on your driving history.
Moving Violations
The Illinois Vehicle Code, along with the Office of the Secretary of State, maintains a list of traffic offenses that are considered "moving violations." The list includes most of the offenses you would expect, such as:
Speeding and aggravated speeding;
Disregarding traffic signals, i.e, running a red light;
Reckless driving;
Passing in a no-passing zone; and
Following too closely.
Others, however, may be a little surprising, including leaving the scene of accident, defective brakes, and improper towing of a vehicle.
The Illinois Points System
Each offense listed in the law is assigned a point value, based upon its severity. Many violations are further broken down to allow consideration for the degree to which the law was broken. For example, speeding at 10 mph above the posted limit is a five-point violation, while speeding at 30 mph or more above the posted limit is valued at 50 points. Reckless driving is among the most serious of moving violations and carries a point value of 55. Other 55-point violations include aggravated speeding in a school zone or a construction zone.
License Suspensions
Any Illinois driver age 21 or over who is convicted of three moving violations in a 12-month period will automatically have his or her driving privileges suspended. The length of the suspension will depend on the total number of accumulated points and any prior suspensions or revocations. Without a history of suspension, a driver can expect a suspension of:
Two months for 15-44 points;
Three months for 45-74 points;
Six months for 75-89 points;
Nine months for 90-99 points;
One year for 100-109 points; and
Revocation of driving privileges for 110 or more points.
A prior suspension or revocation in the past seven years will result in longer suspension periods. Drivers under 21 are subject to suspension upon a second conviction in 24 months, and the points scale for the length of the suspension is adjusted accordingly.
If you are in danger of having your license suspended, or you need help getting your license back, contact an experienced Elgin driver's license reinstatement attorney. Call 847-488-0889 to schedule a free, no-obligation consultation at The Law Offices of Brian J. Mirandola today.
Sources:
http://www.cyberdriveillinois.com/publications/pdf_publications/dsd_dc19.pdf
http://www.ilga.gov/commission/jcar/admincode/092/092010400000300R.html
Last modified on