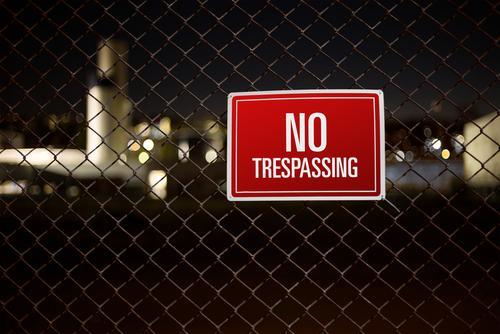 It is against the law to remain on another person's property once you have been given notice that you are not welcome to stay there. However, the way in which the law may be enforced depends upon the nature of the situation. Although technically a violation of the law, in some cases, trespassing is not handled as a criminal matter, and is instead must be dealt with as a civil case.
Criminal Trespassing
Under Illinois, criminal trespassing is a generally prosecuted as a Class B misdemeanor, with penalties ranging up to six months in prison and $500 in fines. Criminal trespass to a residence of another may be considered a Class 4 felony. By definition, criminal trespass is committed when a person:
Enters or remains in or on a building or home unlawfully;
Enters onto or remains on another's land after be notified that his or her presence is forbidden;
Falsifies documents to obtain permission to enter or remain on the property under false pretenses; or
Enters farmland, land for livestock, or an orchard in or on a vehicle, including ATVs and motorcycles, after being notified that entry was forbidden.
Any criminal trespassing charges are dependent on the alleged perpetrator's knowledge that the property was off-limits to him or her. For example, entering a store that was not locked after closing time is not necessarily criminal trespassing, as the person who entered may have been under the reasonable belief that the store was still open.
Civil Trespassing: Landlord/Tenant Disputes
Considering the definition of criminal trespass, it may seem like a tenant who remains in a leased property after being evicted or failing to pay rent could be charged for his or actions. However, the law specifically excludes criminal prosecution for those living on the property "at the request of, or by occupancy, leasing or other agreement or arrangement with the owner or his or her agent."
Thus, the criminal courts are not assumed to have a role in landlord/tenant disputes, as the matter is handled similarly to a breach of contract. There are separate, civil procedures in place that allow a landlord to evict and eventually remove a tenant who refuses to vacate, possibly with the help of the county sheriff. Calling the police to force a tenant out, however, is not the legally prescribed course of action.
If you are facing charges of criminal trespass, or any other of property crime, contact an experienced Elgin criminal defense attorney. At the The Law Office of Brian J. Mirandola, protecting your rights is our highest priority, and we will work with you every step of the way. Call our office today to schedule your free consultation.
Last modified on