Decriminalized Marijuana Leaves Open Questions About Drug Paraphernalia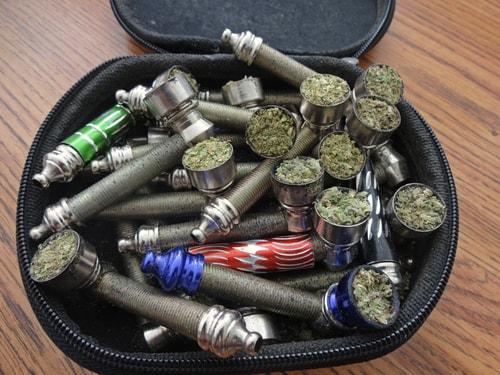 By now, you probably know that low-level possession of marijuana is no longer a criminal offense in Illinois. The possession of less than 10 grams is a civil offense punishable by a fine of up to $200—similar in most regards to a traffic violation. Illinois, however, has maintained its statute regarding the possession of drug paraphernalia. While the law was amended to account for the new guidelines on marijuana possession, loopholes still exist that could land a person in serious trouble.
What the Law Says
The Illinois Drug Paraphernalia Control Act makes it illegal to possess products, equipment, or materials that are intended to be used in producing, preparing, testing, hiding, or using controlled substances, including marijuana. (Technically, equipment for making methamphetamine is covered under a separate statute but is still illegal.) The drug paraphernalia law covers a wide variety of products, including but not limited to:
Pipes;
Bongs;
Carb tubes;
Scales; and
Cutting materials.
In most cases, the possession of drug paraphernalia is a Class A misdemeanor. Those who are approved for medical marijuana by the state of Illinois are permitted to possess the appropriate products to facilitate medical use.
Two Civil Law Violations
When low-level marijuana possession was decriminalized in Illinois in 2016, the Drug Paraphernalia Act was also updated. The update created a new civil law violation to go along with the civil offense of low-level possession. Specifically, the Act now says that a person who is cited for the civil violation of marijuana possession may also be cited for possession of related drug paraphernalia—presuming such paraphernalia is found.
The Act, however, does not say what should happen if no illegal drugs are found or if the police and prosecutors handle the drug possession offense as a local ordinance violation. For example, if the police legally search you and find a small marijuana pipe in your pocket but you are not in possession of marijuana, the law seems to suggest that you could be charged with the full misdemeanor offense of possession of drug paraphernalia.
Similarly, if local police do find a small amount of marijuana, they could opt to cite you under an applicable municipal ordinance instead of the state law. In such a case, the paraphernalia charge could plausibly still be brought on the state level.
Contact Us for Help
If you are facing charges of any type related to the possession of drug paraphernalia, it is important to seek help from a qualified Kane County criminal defense attorney. Call 847-488-0889 for a free, no-obligation consultation at The The Law Office of Brian J. Mirandola today.
Sources:
http://www.ilga.gov/legislation/ilcs/ilcs3.asp?ActID=1937&ChapterID=53
http://www.ilga.gov/legislation/ilcs/ilcs3.asp?ActID=1947&ChapterID=53
Last modified on