Distracted Drunk Driving; A Dangerous Combination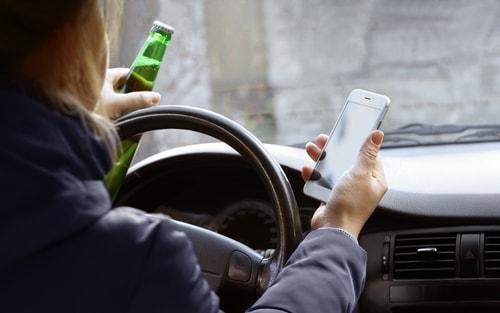 As cell phone technology continues to advance, it is getting harder and harder for some people to put their devices down while driving. Despite being surrounded by warnings of the dangers of texting while driving, a large percentage of drivers—many of them in their late teens and early twenties—continue to pay more attention to their phones than they do to the safe operation of their vehicle. Distracted driving is bad enough, with thousands of accidents every year caused by inattentive drivers, but adding alcohol to the mix can lead to even more catastrophic results.
College Student Arrested for Drunk Driving While Taking a Snapchat Photo
Last October, a freshman at Texas A&M University was booked on drunk driving charges after the car she was driving slammed into the back of a parked police cruiser. The police officer, who had been responding to a domestic disturbance call, approached the young woman's car and found her sitting in the driver's seat without a shirt. According to an affidavit filed by the officer, the woman said that she was trying to take a sexy Snapchat photo for her boyfriend while she was at a red light.
The affidavit states that the officer conducted field sobriety tests, and subsequently arrested the woman. She was cited as a minor in possession of alcohol and charge with driving while intoxicated with an open container.
Distracted Driving Means More Than Texting
Many of the public awareness campaigns related to distracted driving tend to focus on texting, which literalist interpret as the sending and receiving of text messages. In the state of Illinois, however, any handheld use of a mobile device while driving is against the law, including browsing the internet and using apps like Snapchat and Instagram.
Alcohol, of course, can make cell phone use behind the wheel even more likely, and many times more dangerous. For many people, alcohol lowers inhibitions and may contribute to more questionable decision-making. It also impairs reaction time. When a person has been drinking, the "quick" look down at a phone or mobile device may not be as fast as it seems to the driver. In a moving car, those extra seconds could be the difference between getting home safely and ending up in jail or the hospital.
Call Our Office for Help
If you have received a citation for cell phone use while driving or have been arrested on drunk driving charges, we can help you. Contact an experienced Elgin criminal defense attorney. Call 847-488-0889 for a free consultation at The The Law Office of Brian J. Mirandola today.
Sources:
http://www.mysanantonio.com/news/local/article/Texas-A-M-student-arrested-after-hitting-police-10417357.php
http://ilga.gov/legislation/ilcs/fulltext.asp?DocName=062500050K12-610.2
Last modified on