Embezzlement, Murder-for-Hire Allegations Come to Light after Officer's Death Ruled a Suicide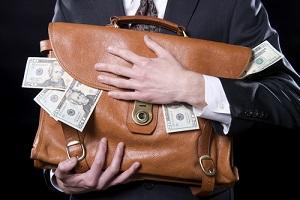 The death of a veteran police officer in the Lake County, Illinois, village of Fox Lake sparked a massive manhunt in early September. Police departments from around northern Illinois, the Illinois State Police, local and federal SWAT teams, and at least half a dozen air support units were all tasked with finding the three men thought to be responsible for gunning down the police lieutenant. The search eventually turned up empty, and police officials now know why. In a press conference this week, Lake County Major Crimes Task Force Commander George Filenko announced that an extensive investigation has produced overwhelming evidence that the officer's death was a "carefully staged suicide," designed to look like he had been killed in the line of duty. It seems as if allegations of embezzlement and conspiracy to commit murder may have led the officer to believe he had run out of options.
Trouble and More Trouble
As details were released about the officer's death, other disturbing information was also coming to light about the 30-year veteran's illicit activities. According to Detective Chis Covelli of the Lake County Sheriff's office, the officer was seeking to hire a hit man to kill a village administrator. The administrator, Anne Marrin, was responsible for auditing the finances of Fox Lake, including a youth program called Police Explorers, which the officer is suspected to have been embezzling money from for the last seven years. It has been confirmed by Marrin that she had been pushing the now-deceased officer for details regarding the program right up until the day before he died.
Police officials also indicate that packets of cocaine were found in the officer's desk after his death, in unmarked evidence bags. They have speculated but are not willing to confirm that the drugs were related to the murder-for-hire plot. There are also reports that the officer's widow and at least of the couple's sons in under investigation in connection with the Police Explorers embezzlement activities.
Embezzlement Concerns
While the estimated cost of the September manhunt was somewhere in the neighborhood of $300,000, the officer is also believed to have stolen thousands from the Police Explorer program as well. Authorities allege that embezzled funds were used for mortgage payments, gym memberships, travel expenses, adult websites, and personal loans. The officer is also believed to have forged signatures on numerous official documents. Flienko said that incriminating text messages had been deleted by the officer prior to his suicide, but investigators were able to recover many of them, and that the officer expressed fear about being exposed. Investigations into the scheme are continuing.
If you have been accused of embezzlement or any other type of deceptive practice, you need reliable representation from an experienced Elgin criminal defense attorney. We will review your case and the available evidence, and assist you in finding a resolution that protects both your rights and your future. Call 847-488-0889 today for a free consultation at the The Law Office of Brian J. Mirandola.
Sources:
http://www.nbcchicago.com/news/national-international/Manhunt-Underway-in-Fox-Lake-for-Two-Armed-and-Dangerous-Men-Police-323626681.html
http://time.com/4102018/illinois-cop-gliniewicz-hitman-suicide/
http://www.chicagotribune.com/suburbs/lake-county-news-sun/news/ct-fox-lake-cop-personnel-records-20151106-story.html
http://www.dailyherald.com/article/20151104/news/151109449/
Last modified on