Fighting a Work Zone Speeding Ticket in Illinois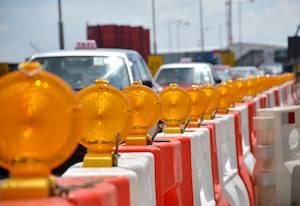 Throughout the state of Illinois, traffic violations are taken seriously by law enforcement, especially those that occur within construction zones. According to the Illinois Department of Transportation (IDOT), around 4,500 crashes occur in work zones around the state every year. Due to the high number of accidents and the danger both drivers and workers face, construction zone speeding tickets can come with severe penalties. If you receive a ticket for a work zone traffic violation, you should contact a skilled traffic ticket attorney for help.
Work Zone Speed Limit Violations
Due to the increased injury risks associated with speeding in a construction zone, ticket fines are high, even for a first offense. For a conviction, a first-time offender will receive a minimum fine of $375, while any subsequent offenses result in a fine no less than $1,000. If two offenses occur within a two-year period, you could face driver's license suspension up to 90 days. For drivers who hold a commercial driver's license (CDL), a work zone violation may result in immediate license suspension, expensive fines, and potential loss of employment. In cases in which speeding is documented through the use of photo speed enforcement technology, standard fines and punishments still apply.
Construction Zone Speeding Ticket Defenses
While work zone violations are considered serious by Illinois police, there are a number of ways experienced attorneys can assist clients cited for speeding in a work zone. If the zone was not properly marked, or marked in a way that did not allow the driver time to sufficiently slow down before the work zone, the driver would not be in violation. If the driver's speed was documented through photo speed enforcement, the ticket must be sent to the driver within a 14-day period. If the ticket is not sent in that time frame, it may be dismissed in court.
If you go ahead and pay your ticket, this is an admission of guilt, and you risk the addition of significant points to your driving record along with the cost. It is better to speak with an attorney to discuss your options.
Contact a Kane County Speeding Ticket Lawyer
Attorney Brian J. Mirandola has years of experience helping people ticketed for traffic violations. Traffic offenses that occur within a construction zone can be caused by a number of factors, not just negligent operation of a motor vehicle. To schedule a free consultation with an adept Elgin, IL traffic ticket attorney who will fight for you, call us today at 847-488-0889.
Sources:
http://www.idot.illinois.gov/assets/uploads/files/travel-information/pamphlets-&-brochures/workzone%20il%20fact%20sheet.pdf
Last modified on