Getting Technical: Traffic Stop Setups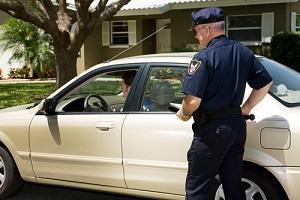 A federal judge in nearby Iowa recently upheld a traffic stop even though the defendant was only traveling 1 mile per hour (mph) over the speed limit and was apparently set up by police officers. The decision is not binding authority for criminal law cases in Kane County, but prosecutors may use it to persuade judges to uphold borderline stops or seizures when the defendant files a motion to suppress evidence.
Facts
In United States v. Fuehrer, Dubuque County Sheriff's deputies had been spying on the defendant for quite some time; they suspected him of being a drug dealer. When they learned the man would be traveling on Highway 151, they set up a radar speed trap. A deputy claimed that his radar recorded the GMC Jimmie travelling at 66 mph in a 65 mph zone. Once the vehicle was pulled over, a drug-sniffing dog was on the scene a mere two minutes later, and officers seized a substantial quantity of methamphetamines.
In his motion to suppress, the defense lawyer claimed that "common knowledge. . .tell[s] us that there is a standard deviation on radar devices that is at least plus or minus 1 mph," and so "the deputy who stopped the defendant. . .could not say with any certainty that he had probable cause to believe that the defendant was violating any traffic laws." The prosecutor also admitted that officers wanted to ensnare the defendant.
Decision
Under existing U.S. Supreme Court precedent, any subjective motive is not relevant. So, according to the judge, the fact that the stop was a "setup" does not invalidate the evidence. Furthermore, the judge pointed out that the standard of proof is lower for a traffic stop than for a conviction. The officer only has to have reasonable suspicion for a stop, and that element was present.
Application
While arguing a motion to suppress, the defense attorney may have made a critical error by not obtaining the specifications for the radar gun. If there was evidence in the record that 1 mph was within the margin of error, the judge may have ruled that there was no reasonable suspicion for the traffic stop.
If you are facing criminal charges, it's important to partner with an experienced criminal defense attorney in Elgin that pays close attention to detail. Call Brian J. Mirandola at 847-488-0889.
Source: http://www.thenewspaper.com/rlc/docs/2015/us-onemph.pdf
Last modified on