Governor Amends Proposed Marijuana DUI Standard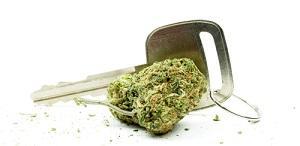 Earlier this month, Illinois Governor Bruce Rauner exercised his amendatory veto power to send a marijuana-related bill back to the House and Senate for approval. The measure, as passed by the legislature, is a multi-pronged approach to easing the state's criminal prosecution of marijuana offenses including low-level possession. It also, for the first time, offered an alternative to the current zero-tolerance policy in place regarding marijuana and driving under the influence (DUI).
DUI and Trace Laws
Under existing Illinois law, a driver can be charged with DUI if he or she is found to have any amount of marijuana in his or her system, regardless of apparent impairment. Traces of marijuana, however, can remain in the body for days or weeks after it is ingested and long after the effects have worn off. Thus, drivers who are not currently impaired or under the influence of the drug may still face charges for DUI.
Proposed Limits
The legislation that was sent to governor earlier this summer included the elimination of the trace law and zero-tolerance policy for marijuana. The effort was due, in part, to the implementation of the state's medical marijuana program. While registered medical users were exempt from the trace law, it was left to the discretion of law enforcement to determine impairment, rather than the application of an even standard. The authorization of similar discretion was considered in the early versions of the current bill, but was rejected in favor of a quantitative scale.
Lawmakers proposed a legal limit, similar to a blood alcohol concentration (BAC) limit, of THC, the psychoactive agent in marijuana, in a driver's blood. The limit would have been set at 15 nanograms of THC per milliliter of blood, which would have been the highest such limit in the county. The governor amended the limit, however, to 5 nanograms per milliliter, which equals the current standard in place in both Washington and Colorado, the two states with legalized recreational marijuana use. The House and Senate must now decide whether to accept Rauner's changes or to restart the process with a new bill.
Legal Counsel for Drug Crimes
The debate over the decriminalization and the outright legalization of marijuana is far from over. In the meantime, criminal charges related to drug possession and drugged driving can be very serious and a conviction can impact your life for years to come. If you are facing drug crime charges, contact an experienced criminal defense lawyer in Elgin today. Call 847-488-0889 for a free consultation at The The Law Office of Brian J. Mirandola and get the legal help you need during a difficult time.
Last modified on