What Is a Hate Crime in Illinois?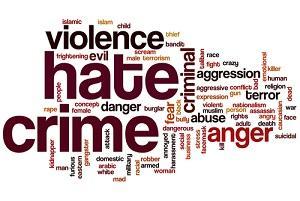 "Hate crime" is a phrase often used in the media and in casual conversation about certain types of criminal acts. Under state and federal law, "hate crime" has a specific meaning. Hate crimes are unique in that punishment for the crimes are enhanced specifically because of the criminal's motives for committing the crime. How Illinois Defines "Hate Crime"
You commit a hate crime in Illinois if you commit a one of the specifically listed offenses because of "an actual or perceived race, color, creed, religion, ancestry, gender, sexual orientation, physical or mental disability, or national origin of a person or group". This means that you can commit a hate crime against a person even if you are mistaken about someone's characteristics. It also means that not just any crime can be a hate crime. The crime must be one of the crimes listed in the law. For example, rape and murder are not listed as possible hate crimes in the Illinois statute.
The offenses that can be considered hate crimes include:
Assault
Battery
Aggravated assault
Theft
Criminal trespass to a residence
Criminal trespass to real property
Mob action
Disorderly conduct
Harassment
Enhanced Penalties for Hate Crimes
The Illinois hate crime law increases the penalties for actions that are already criminalized. In almost all cases, a hate crime is a felony, even in cases where the "regular" crime is only a misdemeanor. This means that the maximum penalty for a hate crime could be up to thirty years in prison, depending on the facts of the case.
Defenses to Hate Crimes
If a prosecutor is going to charge a crime under the hate crime laws, he or she will have an extra burden at trial. The prosecutor will need to show a judge or jury beyond a reasonable doubt that the person committed the crime, and that they also were motivated by the one of the conditions listed in the statute.
A criminal defense lawyer may try and show this the defendant could not have committed the underlying crime. However, in some instances, the evidence is overwhelming that the defendant did commit the crime. In those cases, the best defense may be to explain the motives of the defendant in committing the crime were something not addressed by the hate crime law. A good defense can create doubt in the minds of the jury about the motives of the defendant.
If you have been charged with an offense that could potentially be prosecuted as a hate crime, you need help right away. Contact an experienced Elgin criminal defense attorney today to schedule your free initial consultation.
Source:
http://www.ilga.gov/legislation/ilcs/documents/072000050K12-7.1.htm
Last modified on