How Does Illinois Punish Drug Trafficking Offenders?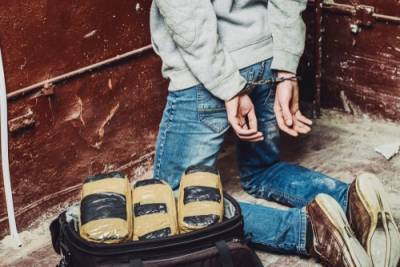 Illinois still has a few months before marijuana is legal for more than just medical usage. There are still serious consequences for those who are caught possessing, selling, and/or trafficking marijuana or another illegal substance.
Illinois Controlled Substance Act
The act of trafficking drugs into the state of Illinois is covered under the Controlled Substance Act. Trafficking is defined as knowingly bringing an illegal substance into the state with the intent to deliver and/or sell the drugs to others.
Offenders of the Controlled Substance Act will face felony punishments that increase in severity based on the amount of drug in the offender's possession.
Trafficking cannabis punishments include:
Less than 2.5 grams: Up to a $1,500 fine and up to six months in jail
2.5-10 grams: Up to $2,500 in fines and up to one year in jail
10-30 grams: Class 4 felony with fines of up to $25,000 and 1-3 years in jail
30-500 grams: Class 3 felony with fines of up to $55,000 and 2-5 years in jail
500-2,000 grams: Class 2 felony with fines of up to $100,000 and 3-7 years in jail
2,000-5,000 grams: Class 1 felony with fines of up to $150,000 and 4-15 years in jail
Over 5,000 grams: Class X felony with fines of up to $200,000 and 6-30 years in jail
Trafficking of other illegal substances including morphine, heroin, cocaine, and methamphetamines are also punishable under the Controlled Substance Act. Up to 15 grams for any of these substances can see the offender charged with a Class 1 felony; 4-15 years in prison and a fine of up to $250,000.
Defenses for Drug Trafficking
Anyone facing trafficking charges should seek help and advice from a knowledgeable attorney who can build a solid strategy to avoid major penalties.
The most common way people traffick drugs into the state is by having it hidden in a car. So, the best defense for an offender is to claim that they did not know the drugs were in the vehicle. That can be an unreliable strategy especially if the car is the offender's possession and has been for years, but it is worth a try.
Other strategies include:
Entrapment
Insanity
Infancy (for individuals under the age of 13 years)
Compulsion
Any of these strategies can be discussed and decided upon with a lawyer who has studied the case.
Contact an Elgin, IL Drug Crimes Attorney
If you or someone you know is facing charges of drug trafficking, the lawyers of the Law Office of Brian J. Mirandola a ready to build a defense strategy to help avoid a negative outcome. To schedule a free consultation with a Kane County drug trafficking lawyer, call our office at 847-488-0889.
Sources:
http://www.ilga.gov/legislation/ilcs/ilcs4.asp?DocName=072005700HArt%252E+IV&ActID=1941&ChapterID=53&SeqStart=5200000&SeqEnd=7900000
https://www.iwu.edu/counseling/Illinois_Drug_Laws.htm
Last modified on