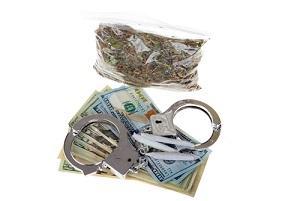 As more states around the country are beginning to reconsider the criminal prosecution of low-level marijuana possession, the debate continues here in Illinois as well. Despite last year's bipartisan efforts to decriminalize the possession of small amounts of the drug, the measure stalled when Governor Bruce Rauner took issue with limits that he found too permissive and fines that he thought were too lenient. The topic is now back under consideration by the state Senate as part of an omnibus bill which may see a vote as early as next month.
Lower Possession Threshold, Higher Fines
Compared to last year's legislation, this year's version is a little stricter. The bill proposes to make possession of up to 10 grams of marijuana—down from 15 grams—a civil offense, on par with a traffic violation. Last year, Governor Rauner thought the proposed fines of $55 to $125 to be too low, so the current measure would allow the financial penalties to range from $100 to $200, dependent upon the circumstances of the offense. The governor's office has expressed its general approval regarding lawmakers' cooperation with Rauner's requests, and "will continue monitoring the legislation."
Expungements
Another major consideration in the bill is that it would allow local citation records regarding marijuana to be purged on an annual basis. Thus, offenders who were cited on separate occasions more than a year apart would not be treated as repeat offenders and thus subject to higher fines. Critics of this provision suggest that the expungement of possession records would make it very difficult to determine if a particular individual needs rehabilitation or substance abuse treatment in the event of future, more serious offenses.
Drugged Driving Limit
The proposed law would also, for the first time, establish a quantifiable standard for impairment related to driving under the influence. Currently, the state follows a zero-tolerance system which means that any trace of marijuana in a driver's system—regardless of the fact that traces can remain for weeks after consumption—could be grounds for a DUI charge. If the omnibus is passed in its existing form, the legal limit would be set at 5 nanograms of THC per milliliter of blood, a standard that experts say is roughly equivalent to the .08 percent blood-alcohol content limit in place for drunk driving situations.
Uncertain Future
While the legislation is part of a statewide effort to reduce the prison population and increase consistency in enforcing drug laws, it also has garnered a fair share of criticism. Many are concerned that decriminalization sends the wrong message about marijuana and that the proposed guidelines are still not strong enough. Even if the Senate approves the bill, it would still need to be approved in the House and be signed by the governor before it can take effect. For now, the outcome is decidedly undecided.
If you or a family member has been charged with drug possession under the current laws in Illinois, contact an experienced Elgin criminal defense attorney. We will help you understand your situation and work with you in exploring options for avoiding a criminal conviction. Call 847-488-0889 to schedule a free consultation at The The Law Office of Brian J. Mirandola today.
Source:
http://www.chicagotribune.com/news/local/politics/ct-illinois-pot-decriminalization-20160325-story.html
Last modified on