Refusing a BAC Test Could Cost You Your License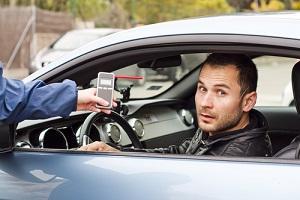 When you have been pulled over on suspicion of driving under the influence, a million thoughts start racing through your mind. Will I go to jail? How much will the fine be? Will I lose my license? Of course, these are all very valid concerns, but before you even get to the point where the answers start to become clear, you will probably be asked to submit to a breathalyzer test or another type of test to determine your blood-alcohol content, or BAC. How you respond to that request can have a major impact on not only your prosecution but on your ability to drive legally in the months that follow.
No Criminal Repercussions
Under Illinois law, it is not a crime to refuse to submit to BAC testing prior or subsequent to an arrest on DUI charges. That is not to say that a refusal does not have legal consequences. When you operate a motor vehicle on Illinois roads, the law presumes that you have granted your implied consent to BAC chemical testing whenever it is duly requested by an officer of the law. If you decide not to take the test, you cannot be criminally prosecuted for refusing, but you will almost certainly face civil sanctions.
Refusing a BAC test will result in the Secretary of State's Office suspending your driving privileges for a period of 12 months for a first offense. This is known as a statutory summary suspension. If you have refused a test before, refusing a second or subsequent time will result in a statutory summary suspension lasting three years.
Weighing Your Options
While refusing a test is not without its risks, submitting to the test may not be advisable in certain situations. If you have been drinking, submitting to a breathalyzer or similar test will provide law enforcement and prosecutors with quantitative evidence of your level of intoxication. It is still possible for prosecutors to seek a conviction on DUI charges without BAC test results as evidence, but obtaining the conviction may be much more difficult.
You should also keep in mind that failing a BAC test—results of 0.08 percent or higher for non-commercial drivers over age 21—will also result in a statutory summary suspension regardless of an eventual conviction. A first failure results in six-month suspension, while a second or subsequent failure results in a 12-month suspension.
Facing a Suspension?
If you a driver's license suspension is pending against you for refusing or failing a BAC test, an experienced Elgin driver's license reinstatement attorney can help. Contact our office today to schedule your free consultation and find out more about your available options.
Source:
https://www.cyberdriveillinois.com/publications/pdf_publications/dsd_a118.pdf
Last modified on