School Zone Speeding Tickets in Illinois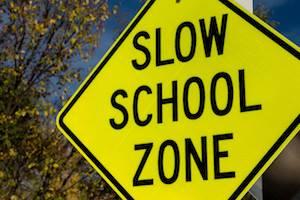 The speed limit in Illinois school zones is 20 mph while children are present, and for good reason. According to the Transportation Research Board, more than 100 children are struck and killed by cars in U.S. school zones each school year. More than 25,000 sustain minor to severe injuries after being hit by a passenger vehicle.
Anyone caught speeding in these zones can face steep penalties, including driver's license suspension under certain circumstances. Losing your license interrupts daily life and can impact your ability to maintain gainful employment, so driver's license reinstatement may be essential to keep your normal life structure.
Here's what you need to know about speeding in a school zone in Illinois:
Limitations to the Law
Reduced speeds for school zones exist while children are present, which is likely to occur during the traditional school hours of 7 a.m. to 4 p.m., except for weekends, holidays, and vacation periods. Illinois law says school zones apply to roads located on school property, and adequately marked public thoroughfares within the school's proximity. These areas must be clearly marked by signs maintained by the local transportation department, township, county, park district, city, or incorporated town in which the school is located. Unmarked and private roads are not considered part of school zones.
Applicable schools include:
Public or private primary or secondary schools.
Primary or secondary schools operated by religious institutions.
Public, private, or religious nursery schools.
Court Supervision is Prohibited
Court supervision is a minimum sentence option which allows for the dismissal of a charge or multiple charges after the defendant meets defined court-ordered conditions. This option is not available for school zone speeding citations, however, so if you plead guilty and pay the fine, or are found guilty in court, your driving record will reflect a conviction.
A Kane County Defense Attorney Can Help
Your driving record accumulates points with each guilty verdict, which can result in the loss of driving privileges. If you act quickly, an Aurora traffic citation defense attorney could help reduce the impact the ticket has on your license, or get the charges dropped entirely. At the Law Office of Brian J. Mirandola, we understand the importance of your driving privileges to the livelihood of you and your family. We have over 20 years of experience helping clients keep their driver's licenses, and in getting them back after suspension begins. Let us help you. Call us today at 847-448-0889 to schedule your free and confidential initial consultation.
Sources:
http://www.ilga.gov/legislation/ilcs/documents/062500050K11-605.1.htm
https://www.cbsnews.com/news/school-zones-dangerous-for-kids/
Last modified on