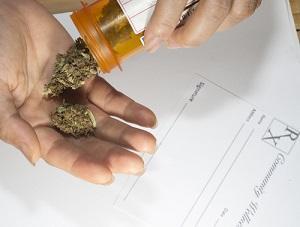 When the Compassionate Use of Medical Cannabis Pilot Program finally got underway in late 2015, Illinois lawmakers hoped that legalizing marijuana for those with approved medical conditions would have positive results. The main goal of the program was to help such patients alleviate pain and to deal with chronic health problems while reducing the need for highly-addictive opioid prescriptions. A new peer-reviewed study suggests that the pilot program seems to be working.
Limited Study Participants
The limited-scale survey was conducted by researchers at DePaul University and Rush University and included responses from 30 patients currently registered for the Illinois medical marijuana program. The project, while small, is the first peer-reviewed, published study regarding medical marijuana use in Illinois specifically. The study's authors acknowledge that the survey was not large enough to extrapolate percentages or quantified conclusions, the response received did provide anecdotal support for other studies that suggest medical cannabis may help reduce the use of opioids.
The participants were all volunteers, which led the researchers to note that the subjects' opinions may skew in favor of marijuana, but the feedback provided much needed qualitative information about how the drug is being used so future studies can be done with better accuracy.
An Alternative to Prescription Painkillers
The average age of the participants was 45, and most used marijuana for chronic pain, seizures, or inflammation. They anonymously reported that they had numerous concerns about tolerance, side effects, and addiction when it came to prescription drugs. Marijuana, overall, was reported to manage certain symptoms better, faster, and for longer periods of time than prescription medications. Subjects claimed that using marijuana helped a number of them eliminate the need for prescriptions that were "frightening" and could make a patient feel like a "zombie."
The study's lead author is presently working on another project that has already accumulated more than 10 times the number of responses. With about 25,000 registered participants statewide, larger studies will certainly be needed to gauge the pilot program's success.
Facing Drug Charges?
Possession of more than 10 grams of marijuana is still a criminal offense for those who are not registered to participate in the state's medical cannabis program. If you or a loved one has been arrested and charged with marijuana possession, you need an advocate who will fight to protect your rights. Contact an experienced Elgin drug crimes defense attorney to discuss your case. Call 847-488-0889 for a free consultation at The The Law Office of Brian J. Mirandola today.
Sources:
https://www.ilnews.org/news/health/study-illinois-patients-use-medical-marijuana-as-an-alternative-to/article_f48f5ec4-ad30-11e7-b2c0-67588c6d9d39.html
http://www.chicagotribune.com/news/local/breaking/ct-medical-marijuana-illinois-study-painkillers-met-20171008-story.html
Last modified on