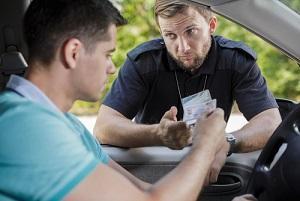 It can be hard to know exactly what your rights are when it comes to police searches. Under federal law, police may only search homes and vehicles under certain circumstances. If a police officer wishes to search your home, he or she will usually need to acquire a search warrant before entering the property. Cars, trucks, motorcycles, and other motor vehicles do not always necessitate a search warrant. One way police may legally search a person's vehicle is if the driver gives them permission to do so. Most legal experts believe that citizens should never give police permission to search their vehicle—even if they have nothing to hide.
When Police May Search Your Car
The Fourth Amendment to the United States Constitution protects American citizens from unreasonable searches and seizure of personal property. In order to legally search a vehicle, police must have a valid reason, a search warrant, or the driver's permission. More specifically, police may lawfully search a vehicle only if:
The driver or owner of the vehicle gives the officer permission to search the vehicle;
The police officer has probable cause to believe there is evidence related to a crime in the vehicle;
The vehicle was towed and impounded by police;
The officer believes a search is necessary to protect his or her own safety; or
The driver has been arrested.
Agreeing to a Vehicle Search
If police suspect that a vehicle contains illegal drugs, contraband, hidden weapons, or other evidence of a crime, they may wish to search the vehicle. If there is no probable cause or other reason they may legally search the vehicle, the police may simply ask the driver for permission to search the vehicle. Police often use indirect language to ask permission and may say something like, "You don't mind if I take a look around, do you?" They may even imply that you do not have a choice in the matter. However, you always have the option to calmly respond, "I do not consent to a search."
Why You Should Not Consent
Even if you have nothing to hide, you should exercise your constitutional right to be free from unnecessary searches because refusing a search protects you if you end up in court. If you decline a search and the officer searches the vehicle anyway, the officer will have to prove in court that there was a good reason, or probable cause, to do so without a warrant. Sometimes, refusing can prevent the search altogether.
Call Us for Help
If you have been accused of a crime based on evidence found during a warrantless search of your car, speak with an experienced Kane County criminal defense lawyer. Call The The Law Office of Brian J. Mirandola at 847-488-0889 to schedule your confidential consultation today.
Sources:
https://www.huffingtonpost.com/scott-morgan/5-reasons-you-should-neve_b_1292554.html
https://www.law.cornell.edu/constitution/fourth_amendment
Last modified on