Understanding the Link Between Criminal Law and Civil Forfeiture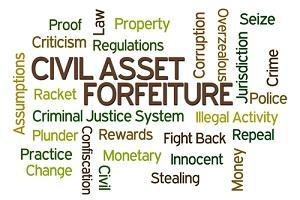 Most people understand that in the United States you cannot be sentenced for a crime until you have either entered a guilty plea or been convicted after a trial. However, in the case of civil forfeiture, you can be punished, even if you are not convicted or formally charged.
Losing Your Assets Before Your First Court Date
Civil forfeiture laws allow law enforcement to seize property suspected to have been used in the commission of a crime. It is called civil forfeiture because the process is independent of the criminal justice system. While under criminal law, a prosecutor must demonstrate guilt beyond a reasonable doubt, all law enforcement has to do to keep property it has seized is to show that the property was used in the commission of a crime by a preponderance of the evidence.
A preponderance of the evidence is a much lower standard of proof than "beyond reasonable doubt." In effect, this means that you can actually be found not guilty of a crime, but still lose your assets to civil forfeiture.
Under civil forfeiture you could lose your assets before you even have your first court date. Civil forfeiture in Illinois is not available for all crimes. Most of the applicable offenses are felonies. But, in some circumstances if you are arrested for a DUI or for driving with a suspended license, you could lose the car you are driving under civil forfeiture laws. The car does not even have to belong to you for it to be seized.
Picking Your Battles
After you have been arrested, you have many serious issues to consider, especially if your assets were also seized. You have the right to fight the civil forfeiture, but you also have to consider how fighting for your assets will affect your criminal defense. Do you have the resources to fight both at the same time?
You will need to speak with a criminal defense lawyer who also understands the impact civil forfeiture can have on a case. It may be in your best interest to focus on your criminal defense. The status of your assets may not matter as much if you are sentenced to a long prison term.
If you have been charged with a crime, or police have seized any of your assets, contact an experienced Kane County criminal defense lawyer.  Call 847-488-0889 to schedule a free consultation at the The Law Office of Brian J. Mirandola today. We are ready to help protect your rights.
Sources:
http://www.ilga.gov/legislation/ilcs/ilcs3.asp?ActID=1977&ChapterID=54
Last modified on