Understanding Misdemeanor Charges in Illinois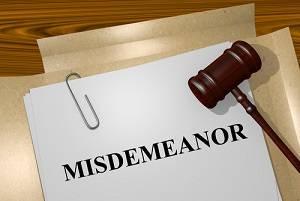 Here in the state of Illinois, misdemeanor charges can come with significant criminal punishments. While some people underestimate the potential impact of a misdemeanor when compared to a felony, the long-term ramifications of a conviction can include difficulty securing employment, housing, or loan opportunities. Legally speaking, a misdemeanor can result in jail time and significant fines.
Below we will discuss what crimes could lead to a misdemeanor conviction, and what you should do if you have been charged.
Misdemeanor Crimes in Illinois
According to Illinois state law, there are a number of crimes that can ultimately result in a misdemeanor charge. Assault or disorderly conduct (examples of disorderly conduct include public intoxication or a violation of noise ordinances) constitute a Class C misdemeanor. This is the least severe of the three misdemeanors, but can still result in up to 30 days in jail, a two year probation period, and maximum fines of $1,500.
Common examples of criminal offenses warranting a Class B misdemeanor include but are not limited to aggravated speeding (driving more than 25 miles per hour over the legal speed limit) and minor drug charges. In the event of a conviction, you could face as much as 60 days in jail. The third and most serious charge is a Class A misdemeanor. This includes DUI, burglary, and unlawful possession of a weapon. If you are convicted of a Class A misdemeanor, possible punishments include up to one year of incarceration and fines as high as $2,500.
How a Criminal Defense Lawyer Can Help
After being charged with a misdemeanor, it is important to act quickly. A skilled criminal defense attorney may be able to have the case thrown out due to improper execution of arrest procedures. In the event of a conviction, you still have a number of options. According to Illinois state law, a large number of misdemeanor crimes are eligible for expungement or criminal sealing. It should be noted that in the event of a record seal, the misdemeanor can still be viewed on your criminal record by law enforcement, but it will make the criminal record inaccessible via background check or public record.
Contact an Elgin, IL Criminal Defense Attorney
With well over a decade of experience in the state of Illinois, including as an assistant state's attorney of the Kane County, Attorney Brian J. Mirandola is uniquely prepared to help you fight against a misdemeanor charge. Through careful examination of your case, he will develop a strategy to pursue dropped or reduced charges. To schedule a free consultation with an experienced Kane County criminal defense attorney, call us today at 847-488-0889.
Sources:
http://www.ilga.gov/legislation/ilcs/documents/073000050K5-4.5-55.htm
http://www.illinoiscourts.gov/forms/approved/expungement/ExpungementSealing_Instructions_Approved.pdf
Last modified on