What is Aggravated Speeding in Illinois?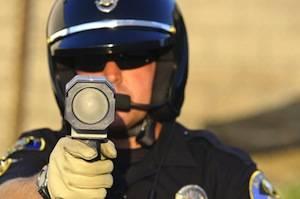 Here in the state of Illinois, traffic violations are taken seriously. One of the most harshly punished traffic offenses is an aggravated speeding ticket. Aggravated speeding is defined as driving 26 mph or more over the posted speed limit. If convicted, an aggravated speeding charge can lead to the loss of driving privileges, substantial fines, and potential jail time. If you have been charged with aggravated speeding, contact an experienced criminal defense lawyer immediately.
Aggravated Speeding Ticket Fine and Punishment
According to Illinois law, aggravated speeding constitutes a Class B or Class A misdemeanor, depending on the speed at which the driver was traveling when pulled over. If the driver was traveling between 26 and 34 miles per hour over the speed limit, they will likely be charged with a Class B misdemeanor. Driving 35 mph or more over the speed limit constitutes a Class A offense. Class B misdemeanors carry a maximum jail sentence of six months and potential fines up to $1,500. If your speeding constitutes a Class A misdemeanor, you could face up to one year in prison and $1,500 in fines.
Outside of potential incarceration and fines, an aggravated speeding conviction can result in driver's license suspension, especially if you have ever received another aggravated speeding citation. Aggravated speeding convictions can also result in immediate license suspension if the driver was speeding in a posted work zone, school zone, or urban area.
Speeding Ticket Defenses
If you have been accused of aggravated speeding, you need a legal team that is prepared to act quickly. Depending on the circumstances, a skilled attorney may be able to negotiate reduced charges, especially if this is your first aggravated driving offense. You could also receive court supervision, which if successfully completed, the charges may be expunged. If you are charged with aggravated speeding while driving in a construction zone, it may be argued that the zone was insufficiently marked. Speaking with your attorney about possible defense strategies can help you avoid rising insurance rates and points assigned to your driving record.
Contact an Elgin, IL Aggravated Speeding Lawyer
The Law Office of Brian J. Mirandola fully understands the potential loss of independence that a license suspension or revocation can present. With decades of criminal law experience in the state of Illinois, our legal team is prepared to aggressively fight for your driving privileges. If you have been cited for a traffic violation, contact our experienced team as soon as possible. To schedule a free consultation with a Kane County criminal defense attorney, contact us today at 847-488-0889.
Source:
http://www.ilga.gov/legislation/ilcs/documents/062500050K11-601.5.htm
Last modified on