Can I Enlist in the Military if I Have a Criminal Record?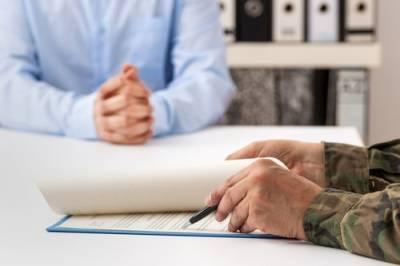 Having a criminal record can affect many areas of a young person's future, such as employment, education, and housing, depending on the nature of the offenses they were charged with. Another area that can be impacted is a young person's plan to join the military. It is not uncommon for a teen to go through their high school career with the intention of joining a branch of the military upon graduation. Many teens even do early enlistment, signing up in their junior year so everything will be in place when they have completed their senior year. But what happens if a person who wants to enlist in the military is arrested or already has a criminal record? Will that impact any military opportunities they were looking forward to?
Moral Character Screening
There are six branches of the U.S. Military, including the Army, Army National Guard, Navy, Air Force, Marines, and U.S. Coast Guard. When a person enlists in one of these branches, a Moral Character Screening of Credit and Criminal Background process is conducted. This screening process into a recruit's background is extensive, searching for anything in their past that may disqualify them. The recruit is required to disclose any and all criminal cases they have had, including juvenile cases, as well as any cases that were expunged or sealed. Failure to make these disclosures could result in being charged with a felony offense.
Having a criminal record will not automatically disqualify someone from joining the military. There is the option of obtaining a Criminal Record Waiver for less serious offenses, such as the following:
Minor traffic offenses

Juvenile offenses

Misdemeanor offenses
A waiver is only required if you were convicted of the crime. It is not required for those cases where a person was arrested but charges were ultimately dropped, or they were found not guilty.
There are factors that will disqualify a person from obtaining a waiver. If they have an extensive criminal record, if they have any type of current judicial restraint, such as they are out on bond or on parole, they do not qualify for a waiver.
While a felony conviction usually disqualifies enlistment, there are some situations where a person can try applying for a waiver. Each application is decided on a case-by-case basis and decision is based on a number of factors, including how the applicant has adjusted to civilian life once their penalty obligations were met.
The application process for a waiver is fairly extensive and often includes obtaining recommendation letters from community leaders that attest to the applicant's character and whether they are morally suited for the military.
Contact a Kane County Criminal Attorney
If you have been arrested and charged with a crime – even a minor one – a conviction can have a detrimental impact on future plans you may have. Call The Law Office of Brian J. Mirandola at 847-488-0889 to schedule a free consultation with a dedicated Elgin defense lawyer and find out what type of legal options you may have for defending against these charges.
Source:
https://www.military.com/join-armed-forces/disqualifiers-law.html
Last modified on