Marijuana Decriminalization Goes Back to Governor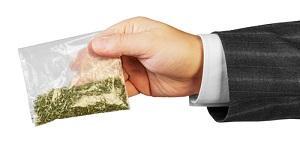 For the second time in two years, Illinois Governor Bruce Rauner will have to decide whether or not to approve legislation that would make low-level possession of marijuana a civil offense rather than a crime. Last summer, the Republican governor used his amendatory veto authority to rewrite the proposed decriminalization measure, reducing the amount of marijuana to be considered low-level and increasing the punitive fines. Last year's bill eventually stalled before making it back to the governor's desk, but this year's version also includes the changes Rauner made a year ago.
Current Legal Guidelines
Under existing Illinois law, if you possess or use marijuana, you are subject to criminal prosecution unless you have been formally approved for participation in the state's medical cannabis pilot program. While many people may not think of marijuana possession as a serious crime, possession of up to 2.5 grams is a Class C misdemeanor, and up to 10 grams constitutes a Class B misdemeanor. Anything more than 10 grams is a may be prosecuted as a felony depending upon your conviction history, and potential penalties are increased if you are found to have intent to deliver.
Proposed Changes
Despite the inclusion of provisions suggested by the governor himself, there is no guarantee that Rauner will sign the measure this time around. Should he decide to do so, however, possession of up to 10 grams of marijuana would no longer be prosecutable as a crime. Instead, it would be considered a civil offense, similar in nature to a traffic ticket. Individuals guilty of low-level possession would be ordered to pay a fine of at least $100 and as much as $200. The new law would also require the circuit court overseeing the jurisdiction issuing the fine to expunge all low-level possession records twice per year, once on January 1 and again on July 1.
Opportunity for Progress
Many around the state see the decriminalization of minor marijuana possession as a clear step in the right direction. They believe that zealous prosecution of non-violent drug crimes—especially those involving marijuana—tend to waste municipal and state resources. From a policy perspective, the measure would also contribute to Governor Rauner's stated goals of significantly reducing the population of the Illinois prison system.
If you have been charged with possession of illegal drugs, including marijuana, cocaine, or heroin, you need an attorney who will fight to protect your rights. Contact an experienced criminal defense lawyer in Elgin, Illinois today. Call 847-488-0889 to schedule your free confidential consultation at The The Law Office of Brian J. Mirandola.
Sources:
http://www.chicagotribune.com/news/local/politics/ct-marijuana-decriminalization-legislation-0519-20160518-story.html
http://www.ilga.gov/legislation/ilcs/ilcs3.asp?ActID=1937&
http://www.ilga.gov/legislation/99/SB/PDF/09900SB2228lv.pdf
Last modified on