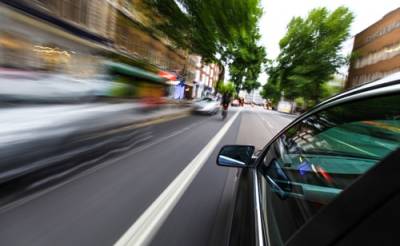 Street racing could be described as a symptom of "road rage" in that one driver speeds up to not allow another driver to overtake them, thus resulting in both vehicles traveling at a high rate of speed. There are other reasons people street race. Some just do it as a form of competition and entertainment. Whether for entertainment or due to road rage, street racing is considered reckless driving because it puts people's lives in danger.
Both drivers of the vehicles caught in a street race are putting themselves in danger if the cars collide, but they also put other drivers and pedestrians in danger. There are other people on the road who may not be expecting two cars coming down the road at a high rate of speed.
What Is Street Racing?
According to Illinois law, street racing is defined as:
Operation of two or more motor vehicles driving side by side while accelerating in an attempt to outdistance each other.
Driving one or more motor vehicles down a predetermined road to compare vehicle acceleration within a specific distance.
Using one or more cars to outdistance or overtake another vehicle.
Using one or more vehicles to prevent another car from passing.
Operating one or more cars to arrive at a destination before another car.
Using one or more vehicles to test the long-distance stamina or the drivers.
Most often those who race for recreation will participate on streets that are less used rather than on the highway or another populated road. However, if a police officer comes upon the race, the drivers will still be ticketed and charged with reckless driving.
Those racing as a result of road rage are more likely to cause an accident because they are driving carelessly around other drivers. If an accident occurs and someone involved is injured, disfigured, or permanently disabled the at-fault driver will be charged with aggravated street racing.
Penalties for Street Racing
In Illinois, those who engage in street racing are not the only ones who can be punished if charged with a crime. The owners of the cars involved in the street race can also be punished if they have knowledge of the race and allow it to happen.
According to the law, street race offenders will be charged with a Class A misdemeanor for a first offense punishable by a minimum fine of $250. Subsequent offenses will be a Class 4 felony punishable by a minimum fine of $500. Additionally, anyone convicted of street racing will have their license revoked.
Those convicted of aggravated street racing will face a Class 4 felony charge and a punishment of a one- to 12-year prison sentence.
Car owners who allow a street race to occur will be charged with a Class B misdemeanor for a first offense and a Class A misdemeanor for any subsequent offenses.
Contact an Elgin, IL Reckless Driving Attorney
If you or someone you know are facing reckless driving charges as a result of street racing, the first step is to hire a lawyer who can help build a defense and avoid a negative outcome. To talk to a Kane County reckless driving lawyer from the law offices of Brian J. Mirandola, call 847-488-0889.
Source:
http://www.ilga.gov/legislation/ilcs/fulltext.asp?DocName=062500050K11-506
Last modified on