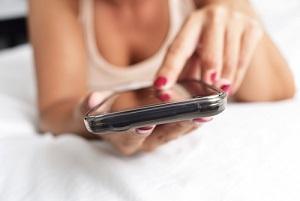 With the rise of digital technology and the ubiquitous photo capabilities of today's cell phones, it is hardly surprising that people are exchanging intimate images of themselves with unprecedented frequency. According to various surveys and studies, as many as half or more of American adults have sent or received sexual content, with at least one report putting the number closer to 90 percent. While such behavior between consenting adults—relationship concerns aside—is completely legal, the situation changes drastically when explicit photos or videos of a person are being sent or posted without the subject's consent. Non-consensual dissemination of private sexual images violates Illinois' so-called revenge porn law, of which Plainfield woman has become acutely aware this week.
Former Longtime Friends
The Chicago Tribune and other news outlets are reporting that a 38-year-old woman has been charged with non-consensual dissemination of private sexual images for posting topless pictures of her former friend on social media sites. Reports indicate the victim, a 34-year-woman from Riverside, told police that sexually explicit photos of her were posted without her permission on Facebook and Snapchat, and that the perpetrator had left her messages saying there were many other images of her "out in the public."
During their investigation, officials traced photos, voicemails, and other electronic data to the suspect. Police also discovered that the explicit images had been sent by email to several members of the victim's family.
Revenge Porn Felony Charges
The Illinois statute prohibiting non-consensual dissemination of private sexual images went into effect in June of last year. It was enacted as part of a nationwide effort to protecting victims—an estimated 90 percent of whom are women—and prosecuting those who violate victims' trust. The law applies not only to acquaintances of victims but also to strangers and hackers spreading intimate images without the person's consent.
According to the law, it is illegal for a person to disseminate, electronically or otherwise, an explicit image of an adult who can be identified either by the image itself or through information displayed along with it. Explicit, in this context, means the photo depicts sexual activity or exposed "intimate parts," as statutorily defined. Further, the offender must have obtained the image in such a way that a reasonable person should know that it was meant to be private, and that he or she knows or should know that the subject of the image did not consent to the dissemination. Such an offense is a Class 4 felony, and a conviction could result in up to three in years in prison and up to $25,000 in fines.
Skilled Legal Representation
As a relatively new law, many Illinois residents may not be aware of the revenge porn statute's existence, so if you are facing charges related to such activity, you may not fully understand your available options. Contact an experienced Elgin criminal defense attorney today to discuss your case. We will work hard in protecting your rights and safeguarding your future. Call 847-488-0889 to schedule your free consultation at The The Law Office of Brian J. Mirandola.
Sources:
http://www.nbcnews.com/tech/mobile/scandalous-stats-half-adults-phones-contain-sexting-content-n22121
http://commonhealth.wbur.org/2015/08/sexting-adults-relationships
http://www.chicagotribune.com/suburbs/bolingbrook-plainfield/news/ct-riverside-facebook-photo-arrest-0319-20160318-story.html
http://abc7chicago.com/news/plainfield-woman-charged-with-posting-ex-friends-topless-photos/1251227/
http://www.ilga.gov/legislation/publicacts/fulltext.asp?Name=098-1138
Last modified on