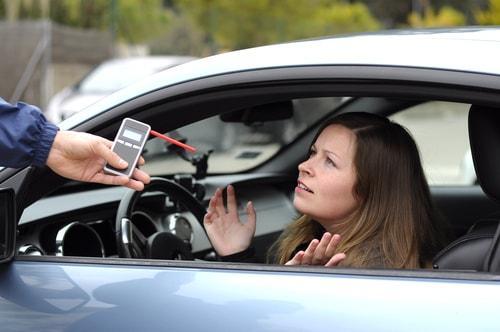 If you are stopped by a police officer on suspicion of driving under the influence (DUI), the arresting officer may ask you to take a breath, blood or urine test in order to determine your blood alcohol content (BAC). If your blood alcohol content is found to be 0.08 or higher, you are considered legally intoxicated and you will likely be charged with a DUI. But, are you required to take such a test?
Implied Consent
Illinois has an "implied consent" law. Implied consent means that by driving on the streets and highways of Illinois, you agree to submit to chemical testing for impairment if you are ever arrested on suspicion of DUI. A chemical test is different from a typical criminal interrogation in that you do not have the right to speak to an attorney before you are tested.
It is not uncommon for a police officer to ask a driver to submit to a preliminary breath test before he or she is arrested. In most cases, a preliminary test is used to establish probable cause, and you do not have to take this preliminary test. Refusing a test at this point does not result in any specific penalties, but it may give the officer reason to look more carefully at other indicators of intoxication such as slurred speech or decreased motor skills.
Incident to Arrest
After you are arrested for DUI, the arresting officer will tell you that your license will be suspended if you refuse to submit to an evidentiary chemical test. The first time that you refuse to take the test, the result is that your driver's license will be suspended for one year. A second or third refusal in the future will result in your driver's license being suspended for three years. If you refuse to take the BAC test, the arresting officer will submit a sworn report to the Illinois Secretary of State that explains the details of the refusal, and you will receive notice of your license suspension. The actual suspension begins 46 days after you receive that notice.
The answer to, "Should I refuse a blood alcohol test?" is not always simple. In most cases, it is not beneficial to refuse to take a blood, breath, or urine test when you are arrested for a DUI. Although the consequences for refusal are often milder than those for a DUI, refusing the test does not guarantee that you will not be convicted of a DUI. A driver can still be convicted of driving under the influence even if they were not tested. In some cases, refusing to take a blood alcohol test can make you appear even more guilty, and prosecutors may suggest in court that you refused the test because you knew you were intoxicated.
Get Help with Your DUI Case
If you have been arrested and charged with DUI or you have questions about your right to refuse blood alcohol tests, contact an experienced Kane County DUI defense attorney. Call The The Law Office of Brian J. Mirandola at 847-488-0889 for a free consultation today.
Sources:
https://www.cyberdriveillinois.com/publications/pdf_publications/dsd_a118.pdf
http://www.ilga.gov/legislation/ilcs/fulltext.asp?DocName=062500050K11-501.1
Last modified on