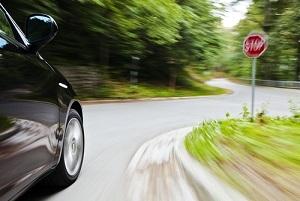 Generally, traffic violations are considered only civil offenses. Things like driving a few miles above the speed limit, a rolling stop at a stop sign, or failing to use your turn signal can result in a ticket and associated fines but are not considered actual crimes. Motorists should know that some traffic violations are considered much more dangerous and therefore come with a much harsher penalty. If you have been charged with reckless driving, you may be facing a misdemeanor conviction and even jail time.
What is Considered Reckless Driving?
You have probably heard the phrase "reckless driving" before but may be unsure of its exact meaning. According to Illinois law, someone is reckless driving if they
Drive a vehicle with deliberate disregard for property and others' safety; or
Intentionally use an incline in the roadway to cause a car to become airborne.
The law dictates that individuals driving in a way that is irresponsible and dangerous can be charged with reckless driving. However, the phrasing is somewhat vague. It can be difficult to know exactly what behavior might be considered reckless driving. Depending on the circumstances, police officers may cite motorists for reckless driving if the drivers:
Drive while impaired by drugs or alcohol;
Drive 20 mph or more over the speed limit;
Ignore a stop sign or red light;
Weave through traffic;
Tailgate;
Intentionally fail to yield the right-of-way;
Evade law enforcement;
Illegally pass a stopped school bus;
Cross a double yellow line;
Race another vehicle; and
Illegally use a cellphone while driving.
Sometimes, a charge of driving under the influence (DUI) can be decreased to the lesser offense of reckless driving as part of a plea deal.
Consequences for a Reckless Driving Conviction
Generally, reckless driving is considered a Class A misdemeanor. If charged with misdemeanor reckless driving, you can be imprisoned for up to a year and required to pay up to $2,500 in fines. Certain circumstances can make reckless driving a much more serious offense. If the driver's negligent behavior causes bodily harm to a child or a school crossing guard at a crosswalk, the driver will be charged with a Class 3 felony. This charge carries penalties of up to five years in jail and fines up to $25,000. If the reckless driving results in the significant injury, permanent disability, or disfigurement of another person, the driver can be charged with Class 4 felony aggregated reckless driving. The penalties include imprisonment for up to three years and fines up to $25,000.
If you have been charged with reckless driving, you need an attorney who can help you understand your rights and responsibilities. To speak with an experienced Kane County reckless driving defense lawyer, call The The Law Office of Brian J. Mirandola at 847-488-0889.
Source:
http://www.ilga.gov/legislation/ilcs/fulltext.asp?DocName=062500050K11-503
Last modified on